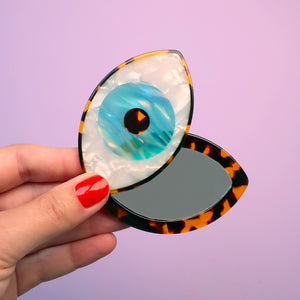 Coucou Suzette
Coucou Suzette - Blue Eye Mirror
Regular price
169,00
0,00
Coucou Suzette - Blue Eye Mirror
"Mirror mirror tell me, who is the most stylish?"
The famous blue eye of the brand gives birth to more and more creations every time! Here it is as a brand new creation, handy and cute: a pocket mirror, to fix your hair before an interview or a date you've been waiting for. Its super powers have been well-proven, the blue iris will bring you luck for sure!
Material: Recycled & Biodegradable Cellulose Acetate (Eco-Friendly)
Size: 8 x 5 cm

---
---
OTHER LOVELY GOODIES!