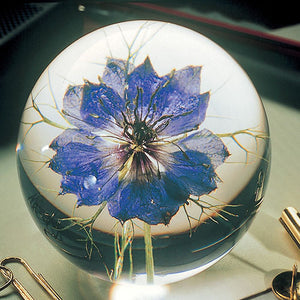 Selected by areastore
Nigella paper weight
Regular price
299,00
0,00
Nigella Papirvægt eksklusivt i areastore.dk
Fang øjeblikket!
Nigella brevvægt - en nigella perfekt bevaret i en papirvægt. Papirvægtene er superfine som dekoration!
Metoden blev opfundet i 1968 og opskriften er stadig hemmelig og overleveret fra den ene generation til den næste i familiefirmaet.
Akrylen har UV filter til at beskytte sig mod forandringer - det anbefales dog at brevvægten ikke står i direkte sollys hele dagen.
Størrelse: ø 6,5cm
Materiale: en ægte nigellablomst og 

Materiale: ægte jomfu-i-det-grønne-blomst og polyester-akryl - produktet varierer pga. den naturlige variation i planten.
Produceret i England 
Nigella Paperweights - exclusively in areastore.dk
Capture the moment!
Nigella paper weight- a Nigella perfectly preserved in a paper weight. This design is a perfect example of the care and patience required in its production.
The procedure was invented in 1968, and is secret to this day,- preserved from one generation to the next in the family firm.
The paperweights have UV filter to protect the paper weight  - still, it is recommended to keep the paperweight out of all-day sun exposure.

Size: ø 6,5 cm
Material: real Nigella flower and polyester resin - the product varies due to the natural flower.
Made in England
---
---
OTHER LOVELY GOODIES!