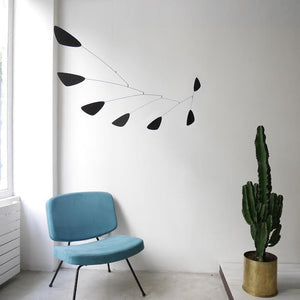 VOLTA Paris
VOLTA Mobile Mykonos
Regular price
2.099,00
0,00
VOLTA Mobile Mykonos
VOLTA Mykonos Mobile - Mykonos er en mobile inspireret af den amerikanske skulptør Alexander Calder der i 1960erne og 70erne designede mobiler i stor stil
VOLTA mobiler er håndlavet af de mobile og stabile dedikerede Otxo og Mario Conti der prodcerer mobilerne helt fra bunden i deres værksted i Spanien
Størrelse: 59 x 100cm
materiale: genbrugsaluminium og stål.
Produceret i Spanien
VOLTA Mobile - Mykonos
VOLTA Mykonos Mobile - Mykonos is a mobile inspired by the the American sculptor Alexander Calder who designed mobiles in the 1960s and 70s.
VOLTA moboiles and stabiles are all handmade by the mobile dedicated Otxo and Mario Conti, who makes them by hand in their studio in Spain..
Size: 59 x 100cm
material: recycle aluminium and steel
Made in Spain
---
---
OTHER LOVELY GOODIES!